Book Your Stay

From downtown night life and shopping to views of Lake Tenkiller, you are sure to find the an amazing place to stay in Cherokee County! Check out the preferred overnight stays from Tahlequah.com...


More info
Real Estate
Browse local listings from the Tahlequah Area's NUMBER 1 Real Estate Company CENTURY 21 Wright Real Estate 
More info
Moving, Boat, and Business Storage
State-of-the-art facilities with the best customer service around! When you rent from Titan Self Storage, you'll have 24-hour access to your belongings. Book online today!
More info
Downtown Tahlequah
Downtown Tahlequah is a destination for those seeking Cherokee history and unique shopping, dining, and entertainment experiences.  Full of offbeat character and small town charm, this unique destination appeals to travelers of many persuasions. ​​  
More info
Lake Tenkiller
Oklahoma's clear water paradise! Nearly 13,000 acres of water and over 130 miles of shoreline of Lake Tenkiller perfect for Boating, Fishing, Scuba diving, Camping, Hiking, Golfing, and More. Lake Tenkiller has 10 marinas and 14 parks and 24 boat-launching ramps.  
More info
The Illinois River
Winding through the Cookson Hills of northeastern Oklahoma is a sparkling, 60-miles-plus scenic waterway.  The Illinois River cuts through steep and rocky bluffs, creating a breathtaking landscape for visitors. With so many floating outfitters and campsites nearby, you have everything you need already along the river.  All you have to do is arrive. 
More info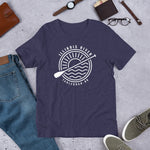 Fun in the sun on the Illinois River! This t-shirt is everything you've dreamed of and more. It feels soft...
Learn more